Thank you for contacting Madsen Roofing, Inc., a representative will contact you shortly.
Sika
Sarnafil
PVC Roofing Membranes
TWO BRANDS COVERING ALL YOUR NEEDS
SARNAFIL

"G" and "S" Membranes &

SIKAPLAN

Actual performance proven in the field over time is the only true test of a roofing systems quality. Billions of square feet of Sarnafil membrane have performed with distinction over the past 55+ years in climates of every description. Many installations are still performing after 30 years or more of service. Sarnafil G and S membranes are available in a variety of guaranteed thicknesses (60,72, and 80 mil), and both standard and custom colors.

Whether your building requires unmatched performance and longevity or standard industry performance at a cost-effective price, Sika Sarnafil has you covered with our Sarnafil and Sikaplan roofing and waterproofing PVC membranes. Both Sarnafil and Sikaplan offer multiple mechanically-attached and adhered system options to meet your buildings unique needs as well as required fire and wind uplift requirements.
Hail Performance
VSH rated roof systems are resilient, meaning they can withstand impact and continue to perform from what would otherwise damage roofing products.
Thickness Guarantee
When you purchase any Sarnafil branded membrane we guarantee that it is produced at or above the labeled thickness for no extra cost or lead time.
Wind Resistance
Our experience with high wind roofing systems in such diverse locations as the Swiss Alps to the Florida coast provide you with peace-of-mind.
Resilient Roof
Sika Sarnafils membranes provide resilient solutions and Sikas quality assurance keeps you covered.
Fire resistant
PVC roofing membranes, such as Sika's, can self-extinguish and resist the spread of flame.
SARNAFIL

Roofing Membrane "G" Series

"G" Series: developed in the 60s, were the first fiberglass-reinforced, single-ply membranes in the industry. Specifically designed for adhered systems, they deliver exceptional dimensional stability to extend the service life of the roof.
SARNAFIL

Roofing Membrane "S" Series

"S" Series: are polyester-reinforced and used in mechanically-attached roof systems. The polyester reinforcement is exceptional at resisting membrane tearing at the high point loads imposed on the membrane in these types of systems.
SIKAPLAN

MEMBRANES - PVC Performance at a TPO Price

As mentioned above, Sikaplan is a cost-competitive, PVC roofing membrane produced to the ASTM industry standard nominal thickness like practically all of the single-ply roofing membranes on the market. This allows for building owners to get a proven PVC roofing system, at an inexpensive price, from the world's most trusted thermoplastic roofing manufacturer. Building owners are no longer stuck with US made unproven TPO membranes as their only budget-conscious solution.
sika sarnafil's thickness guarantee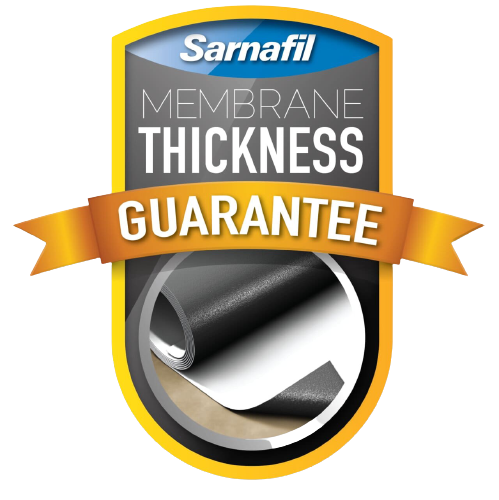 GET WHAT YOU PAY FOR
All of us are familiar with the old maxim that you get what you pay for, and most will readily vouch for that statements fundamental truthfulness. But when it comes to single-ply roofing membranes are building owners really getting what they pay for? Most are not and they arent even aware of it.
WHAT IS
SIKA SARNAFIL'S

THICKNESS GUARANTEE?

We guarantee that any Sarnafil branded membrane is produced at or above the labelled thickness for no extra cost and no long lead times to produce. And if the membrane does not measure up, we will pay up! It is that simple. All Sarnafil branded (stock or custom) membranes are made above and beyond the ASTM standard when all others are giving you less and telling you their membrane is as good as a Sarnafil membrane.
WHAT IS THE INDUSTRY ALLOWED PRODUCTION THICKNESS?
The American Society for Testing Materials (ASTM) developed a test for membrane thickness before the 2000s when membrane production equipment didnt have the ability to be perfectly accurate. Because of this, the standard allowed the membranes to be produced with a plus or minus 10% allowance, meaning that a membrane labeled 60 mils could actually be 54 mils and still be in compliance. Fast forward 20-30 years after the standard was developed and it is still being used while production equipment accuracy has improved greatly and can easily make a membrane the labelled thickness without much variance. Specifiers and building owners are generally unaware of this situation, even though it has a direct impact on product value and performance.
WARRANTY CENTER
Go Back